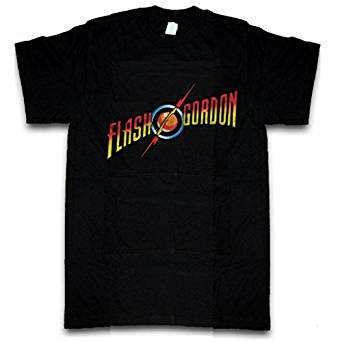 Flash Gordon Logo T-Shirt (Small)
Flash Gordon t-shirt printed with the lightning bolt/planet logo and the superhero's name in red/yellow block letters. Mediumweight 100% ringspun cotton is pre-shrunk with an athletic fit. Flash Gordon is the hero of a science fiction adventure comic strip originally drawn by Alex Raymond. It inspired the 1980 campy British movie, with a plot involving New York Jets football star "Flash" Gordon battling the villian Zarkov's, on the planet Mongo. The cult classic is part of the collective consciousness. Even super-fans Seth MacFarlane and Mark Wahlberg refer to the movie repeatedly in the 2012 comedy, Ted, which includes a cameo by the original star.
When you wear this t-shirt, be prepared for complete strangers to impulsively burst out singing "Flash! aH-ah...Savior of the Universe!", the catchy verse from the soundtrack by rock band Queen. You can count on hearing "GORDON'S ALIVE?!" where ever you go. A must-have for any fan of popular sci-fi movies like Battlestar Galactica and Dune. A great tribute to a film that has influenced popular culture for decades.
---
---
More from this collection