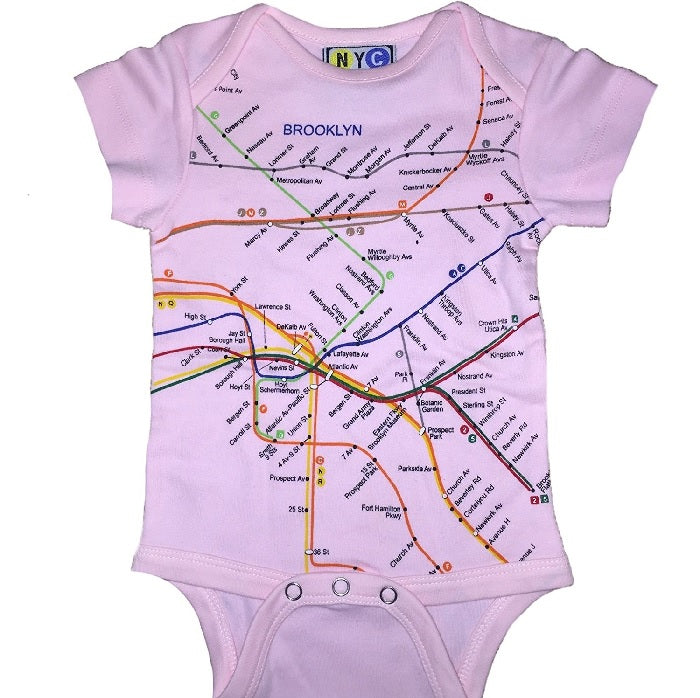 NYC Subway Line Brooklyn Map Baby Girl's Romper, Pink
Infant snapsuit has the NYC Subway Line map of Brooklyn in full color on the front and the official MTA New York City subway logo on the back. Premium quality buttery-soft 100% cotton onesie, silkscreened with crisp detail. Genuine licensed NYC Subway Line TM merchandise with retail tags, and woven neck tag with NYC SL printed in multicolor circles to mimic the subway color coded lines. 3 nickel-free snaps and lap shoulders for easy diaper changes and quick on/off. Your baby will be commuting in style, and comes in handy if you need to give directions to lost tourists. Black, Blue, Pink or White. Sizes: 6 months, 12 months, 18 Months.
Known as the Tauranac-Hertz map, Michael Hertz Associates distilled New York's complicated transit system into a sequence of straight lines, rainbow colors and black dots. The diagram remains iconic in the design world. Though not geographically accurate, the map includes streets and landmarks such as Prospect Park, Botanic Garden, and Grand Army Plaza, allowing users to navigate from subway to aboveground locations. Unique baby shower gift for any Brooklynite, and an adorable gift for the littlest straphanger.
---
---
More from this collection